<![if !vml]>

<![endif]><![if !mso]> <![endif]><![if !mso & !vml]> <![endif]><![if !vml]>

<![endif]><![if !vml]>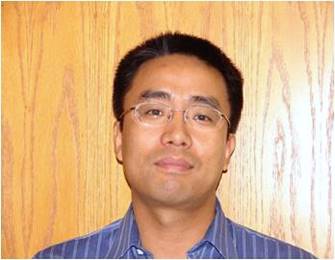 <![endif]>
---
Dr. Zhang is currently a professor at the Department of Computer and Information Sciences of IU South Bend. He is the associate department chair and the director of MS in Applied Math and Computer Science. He received Ph.D. in Computer Science from Wayne State University in August 2005. His research interests include wireless networks and mobile computing, resource allocation for networks and distributed systems, Internet of things, cognitive radio networks, and network security. Dr. Zhang's research has been sponsored by IU and National Science Foundation.
---
[Teaching] [Schedule] [Research] [Publications] [Activities] [Contact]
---
A106: Introduction to Computing, Fall 2020, Fall 2019
B100/I101: Problems Solving Using Computers, Fall 2020, Fall 2019
C490/C690: Security for Networked Systems, Spring 2020
C421/B541: Digital Design/Hardware System Design I, Spring 2020, Spring 2019
C490/C690: Mobile Applications Development, Summer 2018, Summer 2016
C201/I211/A506: Computer Programming II, Spring 2018, Fall 2017
C335/A593: Computer Structures, Spring 2017, Fall 2016
I320: Distributed Systems and Collaborative Computing, Spring 2013, Fall 2010
C490: Embedded and Real Time Systems, Fall 2012, Fall 2010
A515: Telecommunications and Computer Networking, Fall 2011, Fall 2009
C243: Data Structures, Spring 2010, Fall 2009
C101/I210/A504: Computer Programming I, Spring 2006, Fall 2005
For advising appointment, please contact me through email.
Fall 2020 (Aug.24th ‒ Dec 18th)

Monday

Tuesday

Wednesday

Thursday

Friday

8:30am ‒ 9:30am

9:30am ‒ 11:30am

11:30am ‒ 12:45pm

A106

1:00pm ‒ 2:15pm

B100/I101

B100/I101 Lab

B100/I101

2:15pm ‒ 3:00pm

3:00pm ‒ 5:00pm
| | |
| --- | --- |
| Class Meeting: | |
| Scheduled Office Hours: | |
| By Appointment Only: | |
Research Interests
<![if !supportLists]>o <![endif]>Wireless Networks and Mobile Computing
<![if !supportLists]>o <![endif]>Resource Allocation for Networks and Distributed Systems
<![if !supportLists]>o <![endif]>Internet of Things
<![if !supportLists]>o <![endif]>Cognitive Radio Networks
<![if !supportLists]>o <![endif]>Network Security
Office: Northside Hall 331, 1700 Mishawaka Ave., South Bend, IN 46634.

Phone: (574) 520-4297

Email: <![if !vml]><![endif]>